Puerto Rico Community Foundation (PRCF), a 501(c)(3) nonprofit organization, and PRoTECHOS Inc., a nonprofit organization certified under Puerto Rico's Section 1101.01, signed a fiscal sponsorship agreement that will allow PRCF to process donations on behalf of PRoTECHOS that will be tax deductible under federal law.
PRoTECHOS was created in December of 2017 to address the need for skilled carpenters to rebuild residential structures following the destruction caused by hurricanes Irma and María, said Emily Roisman, one of the founders. The organization provides residents of at-risk, undeserved communities throughout Puerto Rico, with roofing and other construction-related services, while providing skilled labor training that will better position the unemployed to procure jobs as Puerto Rico continues to rebuild. "Today marks a new chapter for PRoTECHOS. We are very proud to partner with PRCF.  We really couldn't do better – it's a very well-established organization, with great experience in helping the underserved throughout Puerto Rico", said Roisman.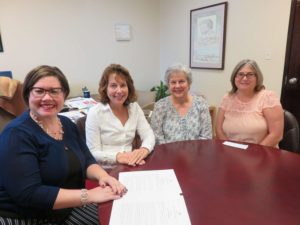 PRoTECHOS began its work by replacing and repairing roofs in residences of Buen Consejo, a section of Río Piedras.  The first two roofs were built using a team of trainees from the University of Puerto Rico's School of Architecture.  The next roofs will be used as teaching opportunities for residents of the community who are interested in learning carpentry skills that allow them to find new employment opportunities.
Education and acquisition of valuable skills will boost the self-confidence of each person impacted by the initiative. "And with more confidence, anything is possible," she said.
Roisman, a native of the United States, said she feels that Puerto Rico has adopted her, so she feels a strong affection for the island. "This is our home and this is our family and we have to do something … I knew I could do more … I do not want to leave this planet without making a positive change, a change that is more than just a "Band-Aid". I want to create something that will be a solution for the future of Puerto Rico." shared Roisman.
To DONATE, go to I want to donate.
VERSIÓN EN ESPAÑOL
FCPR firma acuerdo de agente fiscal con organización que promueve reemplazo de techos y destrezas de carpintería 
La Fundación Comunitaria de Puerto Rico (FCPR) firmó un acuerdo de agente fiscal con PRoTECHOS, Inc. para viabilizar que la organización sin fines de lucro, certificada bajo la Sección 1101.01 del Código de Rentas Internas, reciba donaciones que requieran la certificación 501c(3) del gobierno federal, las cuales son deducibles bajo la ley federal.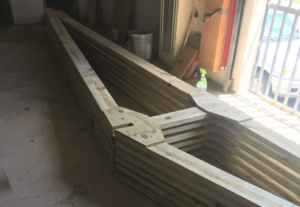 Con este paso, ProTechos amplía su campo de acción para seguir apostando a su misión: proveer un techo seguro a residentes en necesidad y otros servicios de construcción y, al mismo tiempo, ofrecer adiestramiento en carpintería a miembros de la comunidad para promover oportunidades de empleo. Además, el refuerzo vocacional aumentará la autoconfianza de cada persona a ser impactada con la iniciativa. "Y con más confianza, cualquier cosa es posible", indicó.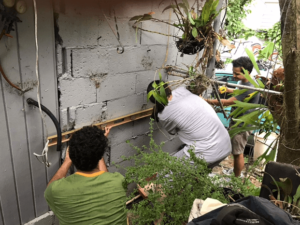 La entidad fue creada en diciembre de 2017 en respuesta al deseo de sus fundadores de contribuir a la reconstrucción de las estructuras residenciales de Puerto Rico tras los estragos causados por los huracanes Irma y María, explicó una de las fundadoras, Emily Roisman. Los primeros dos techos reemplazados están ubicados en la comunidad de Buen Consejo, en Río Piedras, donde cuentan con el apoyo del Centro de Acción Urbana, Comunitaria y Empresarial de Río Piedras (Cauce) para la identificación de residencias en necesidad. Los siguientes techos serán usados como oportunidades de prácticas para residentes que deseen aprender carpintería. "Hay muchas personas en Río Piedras que necesitan ayuda", dijo Roisman.
Para Roisman, la oportunidad que FCPR le dio a su organización para poder recaudar fondos fuera de Puerto Rico, gracias a que la FCPR será su agente fiscal, es un nuevo capítulo para su proyecto. "Estamos muy orgullosos por habernos unirnos a FCPR. La fundación es una organización muy bien establecida y todos conocen el nombre", destacó.
Roisman, oriunda de Estados Unidos, expresó que siente que Puerto Rico la ha adoptado, por lo que le ha cogido un cariño especial a la Isla. "Este es nuestro hogar y esta es nuestra familia y nosotros tenemos que hacer algo… Yo sabía que podía hacer más… Yo no quiero dejar este planeta sin hacer un cambio positivo, que no solo sea una bandita o parcho. Yo quiero ser una solución para el futuro", compartió Roisman.
Para DONAR, visite la sección de Quiero donar.